Do the positive effects of Fidel Castro's authoritarian policies in Cuba make interventions like the Cuban Literacy Campaign worthy of praise?
As a nation with a complex sociopolitical history, Cuba makes a fascinating case for addressing this question.
_

Today, education is a fundamental cornerstone of Cuban society. With access to education for all and one of the highest literacy rates in the world, this island nation has already met many of the targets within Sustainable Development Goal 4 (SDG4). Though some are quick to point to policies implemented under the late Fidel Castro as the catalysts for such impressive stats, the reality is not so straightforward.
Recently, one of Castro's more famous interventions, the Cuban Literacy Campaign, was brought into the spotlight when U.S. Senator, Bernie Sanders, received backlash for suggesting the intervention yielded positive results.
"It's unfair to simply say everything is bad. When Fidel Castro came into office, you know what he did? He had a massive literacy program. Is that a bad thing? Even though Fidel Castro did it?"
While Sanders said he was opposed to the authoritarian nature of Castro's regime in Cuba, he also asserted that the fact of the matter is that hundreds of thousands of Cubans benefitted from this literacy program.
"I think teaching people to read and write is a good thing," Sanders stated.
The Cuban Literacy Campaign (La Campaña Nacional de Alfabetización) was an integral part of achieving success in two main pillars of Castro's communist agenda: education and literacy. In September of 1960, less than a year after taking control of the government, Castro announced his plan to eradicate illiteracy in Cuba.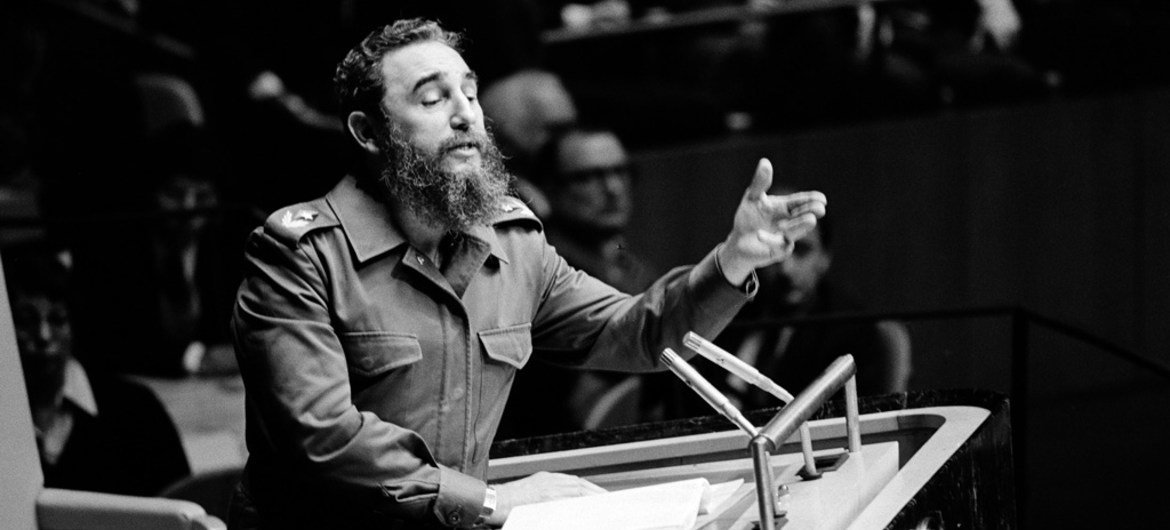 "In the coming year, our people intend to fight the great battle of illiteracy, with the ambitious goal of teaching every single inhabitant of the country to read and write in one year."

— Fidel Castro, UN Summit, September 1960

What was the Cuban Literacy Campaign?
Fidel Castro was particularly focused on creating a movement that would reach historically marginalized communities including Afro-Cubans, women, and rural workers.
Over the course of nine months in 1961, hundreds of new schools were constructed (primarily in rural communities) and over 250,000 volunteer teachers (often teenagers, and often female) had mobilized in an effort to eradicate illiteracy.
A 1984 UNESCO report found that just prior to the beginning of the Literacy Campaign, 23.6% of the Cuban population above age 10 was illiterate. By the end of the campaign, which had reached more than 700,000 people, that percentage had fallen to 3.9%. (Greenberg, 2020.)
Context is Key
"Everyone can read, but there is nothing to read." — Cuban saying
While this particular intervention was deemed a success by many, others argue that the approach Castro took was problematic. Yes, literacy rates in this island nation did increase significantly as a result of the intervention, but many push back on the notion that the literacy campaign was actually done to empower Cuban people, as Castro once implied, but rather to control them.
A few caveats to take into account when considering this intervention:
Castro's regime controlled the content being taught. For this reason, access to education was also seen as a form of indoctrination. In fact, since 1959, schools in Cuba have been state-run and require a pro-government curriculum. All of the materials used during the infamous Literacy Campaign were, or contained some elements of, propaganda meant to promote Castro's communist agenda. Similarly, other media sources including libraries and bookstores are still required to carry literature and media that have been approved by the government.
Before the Cuban Literacy Campaign, literacy rates in 1959 Cuba were listed at 79%, already among the top five countries in Latin America. This is not to say that the impact of the campaign was insignificant, rather that it's important to understand where Cuba stood before this intervention.
Are Literacy Campaigns Valuable?
Often in the global development arena interventions with the best intentions go awry. While literacy campaigns are undeniably effective in certain ways, their execution should be looked at critically. Cuba's literacy campaign was an impressive feat for numerous reasons, but it is also an example of how those with power can use education to oppress others.
While we know that increased literacy leads to a better quality of life, what are the actual benefits of literacy campaigns if people are not able to read what they want or write what they think? As Clifford Thies states, "The truth is, literacy is fast being eradicated in the world, with or without literacy campaigns." (Thies, 2020).
Author, Ulrike Hanemann, also states that "While campaigns have created fresh momentum to mobilize for literacy, most large-scale campaigns have set overly ambitious targets and underestimated the complexity of the task."
Bottom Line: While literacy campaigns might be effective at quickly teaching basic reading and writing skills, they are not sustainable and can be problematic in situations where one party is controlling the content being disseminated. For this reason, it is important to look critically at who designed the curriculum and what ulterior motives might be at play. Through the lens of SDG 4.6, Cuba has reached UNESCO's goal; however, to say that 99.8% of all Cubans are utilizing the tool of literacy to live a better life would likely be inaccurate.
References
Roser, M., & Ortiz-Ospina, E. (2016, August 13). Literacy. https://ourworldindata.org/literacy?fbclid=IwAR1jWWGPn3VY3tKpqKu9Gg1gW5yYfGQiuTsvxufmwf46P74_cT90aIFC1ts
Gaouette, N., & Oppmann, P. (2020, February 25). What the Cuban literacy program Bernie Sanders praised was actually about. Retrieved March 4, 2020, from https://www.cnn.com/2020/02/25/politics/sanders-cuba-literacy/index.html
Kessler, G. (2016, December 1). Justin Trudeau's claim that Castro made 'significant improvements' to Cuban health care and education. Retrieved March 6, 2020, from https://www.washingtonpost.com/news/fact-checker/wp/2016/12/01/justin-trudeaus-claim-that-castro-made-significant-improvements-to-cuban-health-care-and-education/
Bey, D. A. (2016, September 8). 10 Things to know about revolutionary Cuba's Literacy Program. Retrieved from https://www.telesurenglish.net/analysis/10-Things-to-Know-About-Revolutionary-Cubas-Literacy-Program-20160908-0007.html
Goal 4:. Sustainable Development Knowledge Platform. (n.d.). https://sustainabledevelopment.un.org/sdg4
Thies, C. (2020, March 2). The Cuban Literacy Campaign of 1961. Retrieved March 7, 2020, from https://www.heartland.org/news-opinion/news/the-cuban-literacy-campaign-of-1961
UNESCO eAtlas of Literacy. (n.d.). https://tellmaps.com/uis/literacy/#!/tellmap/-601865091
Bernie Sanders' Cuba comments draw criticism from Democrat Rep. Debbie Mucarsel-Powell – CNN Video. (2020, February 25). Retrieved April 1, 2n.d., from https://www.cnn.com/videos/politics/2020/02/25/bernie-sanders-cuba-castro-comments-lawmaker-reaction-ac360-cooper-vpx.cnn
Hanemann, U. (2015). The Evolution and impact of literacy campaigns and programmes, 2000-2014. Retrieved April 1, 2020, from shorturl.at/ERWYZ