I finally regained access to my blog after several months of being locked out from the Middlebury server.  Wrote this back in October, more "new" old posts to come.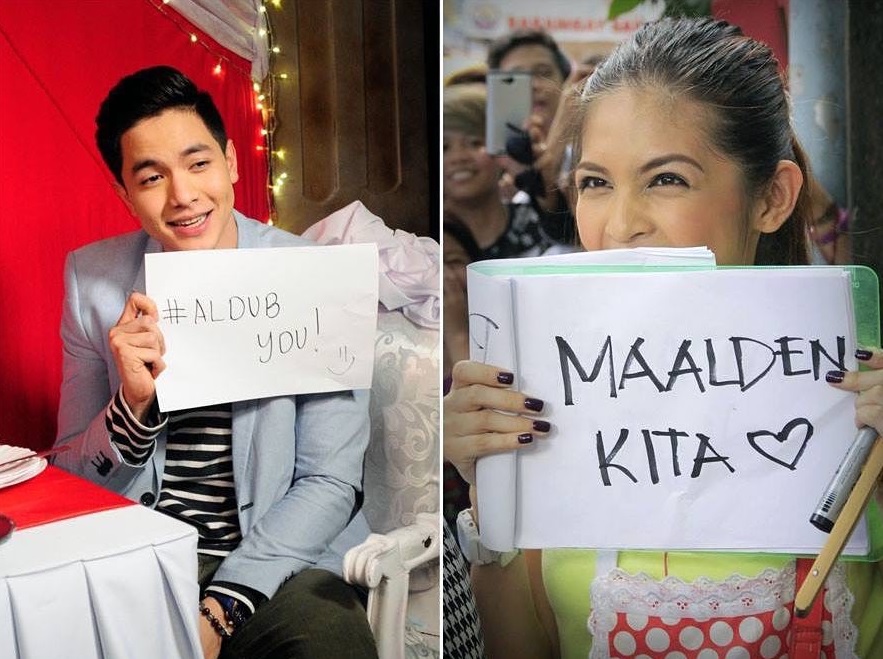 (Picture from GMA Network)
Every day after lunch, Eat Bulaga airs on the GMA network and is broadcast into my office. Eat Bulaga, I have learned, has been around for a long time. The show is conducted on a split screen, one screen is in studio, while the other is at a satellite set in a neighborhood somewhere in Manila. The program is an energetic spectacle. There are giveaways, lip-sincing interludes, dancing, crowds, jokes. It has all the makings of a variety show, but the format takes it to another level.
Earlier this year, a couple was introduced to the show and their onscreen romance has captivated people throughout the Philippines and the world. Alden Richards and 'Yaya Dub' (Maine Mendoza) are two attractive young Philippinos whose characters have fallen in love through the split screen of the program. The two have become such a huge sensation that their split-screen romance has been used in Philippino commercials for various products. The two characters were unable to meet in person, always facing obstacles to keep them apart. Communication between the couple was limited to scrawled notes shared via camera and lip-sinc/dub smashing of popular songs.
Recently, the pair were finally able to meet in person. The frenzy over the two coming together broke twitter records and has caught the attention of international media.
#AlDub works because of it leverages a smart combination of culturally prominent features of the Philippines; texting, top 40 music, love. Alden and Yaya Dub "text" essentially in the love notes they scrawl on large note pads and share with each other via the split screen. The two dub smash popular songs, the lyrics indicative of their loving sentiment for each other. Lastly, love. The Philippines loves love. The love story of Alden and Yaya Dub fascinated the country, and the strong will of the fan base lobbied for the two to meet. Finally, in late October, their wishes were granted.