Monday, October 15th, 2018...1:16 pm
Faculty Spotlight: Professor and ICC Specialization Chair Netta Avineri
Jump to Comments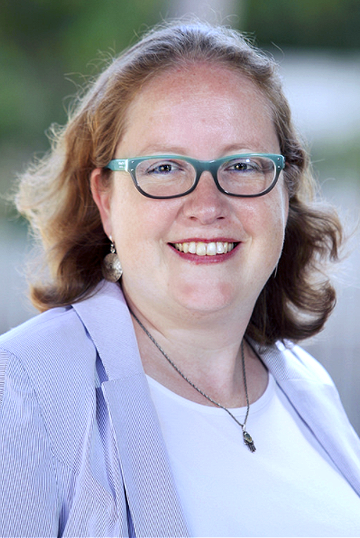 A conversation with TESOL/TFL and DPP/IEM Professor and the Chair of the Intercultural Competency (ICC) Specialization, Netta Avineri, about the specialization's recent development, successes and future. Previous to Fall 2017, students were only required to take a total of 8 credits in ICC to graduate. Now students have the opportunity to acquire an ICC specialization with 16-credits of coursework. If you would like to learn more about the ICC specialization and opportunities in the ICC field, please contact Prof. Avineri at navineri@miis.edu.
What courses do you teach?
Avineri: TESOL/TFL program is my primary focus. I also teach a course in IEM/DPP department called Survey Design. In ICC, I teach Service Learning in International and Domestic Community Partnership. It's a 2 unit weekend workshop, where we talk about the pedagogy and methodology of community engagement broadly speaking. Students engage in service in that course and we talk about the intercultural issues involved. This coming Spring I am teaching our Communication in Multicultural Settings class, which was created by Prof. Lynn Goldstein – a professor who retired last year, and students can take it for 2-4 units variable.
How did you become interested in teaching and being a part of the ICC field?
Avineri: By training I am a linguist anthropologist/applied linguist. I am interested in issues of culture and community broadly conceived. Anthropologists do intercultural work methodologically and work with intercultural issues. So, it was a natural step in a way.
If you could name learning outcomes for your students that take your courses, what would those be?
Avineri: Specifically to the curriculum as a whole is knowledge, skills, attitudes and awareness. Depending on the course, we can focus it in different areas. I generally want students to be focused on ethical engagement with communities being sensitive to how they perceive other people and interact with other people, so they are not making assumptions or have pre-conceived notions about individuals or communities. So I try to do a lot of activities that are focused on ethics and sensitivity. Wherever the course might be, it could appear differently. In TESOL, I teach research methods, sociolinguistics or practicum. Other courses I teach that are not ICC-designated have a lot of overlapping foci. So I am always interested in making sure that students are trying to understand the community before they try to change it and try to ethically engage with people.
Do the ethics come before making social change and at what point do ICC specialists have to do self-examination?
Avineri: I feel like you can't go into the community without understand yourself, but you also understand yourself better in engagement with the community. So it's artificial to say that I first understand myself and check that box, and then move on. So I try to do those in tandem with each other. In the past few years I have thought about how anthropologists are frequently trained to understand the situation, observe it in-depth, look at it over time. Generally, that's usually it. I do a lot of work with colleagues on language and social justice advocacy initiatives, and we talk about how do you on the one hand observe something and not attach value to it, and on the other hand want to move towards social change. How do you beat those things at the same time? Because if you want social change you have to notice something that you don't like. I try to explore those dilemmas and how you balance those issues. In my classes, we try to think through – okay, I enter a community, I notice something that either I don't like, or the people in the community seem to be upset about – how can I still understand it on its own terms before I try to be the one that goes and changes it. When those ethical dilemmas arise, what are some ways to handle that to shift towards social change.
How did ICC start at MIIS?
The specialization started officially in Fall 2017. The ICC classes as a whole started in 2013. The then president of the Institute, through discussions with all different people had set out a policy about including ICC courses in the overall language and intercultural studies requirement for the Institute for GSIPM students. So, a committee was formed. Kathrine Punteney, who is the IEM program chair, was the chair at the beginning of the committee. She brought together different faculty to think through what could these courses look like. What's the process that could be vetted to build courses from scratch, and Communication in Multicultural Settings was the first course that was offered. What we were realizing was that classes were going well, students were enrolling, we're growing the curriculum, etc. But it wasn't really a curriculum in that there wasn't prerequisites. It was just a list of classes and we needed a structure to them. We needed a sequence – a scope. So that process of building the curriculum took us about a year. There's an Introduction to ICC course that's a pre-requisite, or co-requisite, and there are other courses you have to take, and there's some elective room. 
Have some students graduated with the specialization since its inception?
Avineri: As now, we have had a couple of students that graduated with the specialization last year. There was one student that was an NPTS student and another TESOL, and now we have a number of students that are exploring – IEM/MPA, TLM, and other programs.
What is your and the committee's vision for the students who are acquiring the ICC specialization?
Avineri: I think the same way we think about the language studies classes at MIIS in that they are content-based language instruction. I think what we are doing at MIIS is content-based intercultural education. So we are not looking at the ICC world and that field as separate somehow from the important social change type of work that DPP is doing in their program, for example. But that during the program and beyond, students can see how cultural issues are manifesting and they have the abilities and skills to foster that. ICC is actually very much integrated into the real work students do, and, for example, students can't be a good interpreter if you don't have the intercultural sensitivity. My goal is that people are seeing the ICC courses as making their degree program that much richer.
What is the future of ICC at MIIS?
Avineri: I think we are having a lot of interesting conversations among the committee, students, faculty and staff about classes being these intercultural spaces. My vision would be that we have a real deep understanding of what intercultural issues are in all of these degree programs. I really want to understand and partner with each of the degree programs we offer on campus. We have one colleague who talks about stakeholder engagement, as in that is the term that the program uses to talk about intercultural communication. As a campus, how can we help facilitate those kinds of conversations, and it's not just with that particular program but across all programs. What if IEP was talking with T&I? Not that these things are not happening, but from an intercultural perspective. In middle of September last year there was a deadline for Envisioning Middlebury, in which different programs on campus and different entities of Middlebury brought forward ideas that they had about how to move forward in ICC. So we're interested in, not just MIIS, but across Middlebury world. We had a retreat in October 2017 with representatives from the language schools, the C.V. Starr Schools Abroad, the College and MIIS. We all came together to talk about ICC issues and thinking about broad questions that are in common for all these different representatives. What are the ICC issues at the College versus at the Schools Abroad versus at MIIS. We were thinking about things in a much more integrated way, considering what are the particular issues in the programs and in their fields. We are thinking about Middlebury as a whole and about how Middlebury can further connect one with the other.